"Burns NCLEX Questions" offer invaluable practice tests specifically designed to prepare student nurses for the National Council Licensure Examination (NCLEX). Aspiring nurses undergo rigorous training to ensure they provide safe and competent care to patients. One critical milestone in their journey is passing the NCLEX, a standardized exam that determines their eligibility for nursing licensure.
Taking practice NCLEX tests, like the ones provided by Burns, is of paramount importance for student nurses for several reasons:
Familiarization with NCLEX Format: The NCLEX is a unique exam with its own structure and question types. Regularly engaging with Burns' practice tests allows student nurses to become familiar with the format, question styles, and time constraints they'll encounter on the actual exam.
Identifying Knowledge Gaps: Practice tests help pinpoint areas where student nurses might lack proficiency or understanding. Identifying knowledge gaps early on empowers them to focus their efforts on specific subjects, ensuring a comprehensive understanding of all nursing concepts.
Building Confidence: Facing the NCLEX can be nerve-wracking for many student nurses. Consistent practice with Burns' NCLEX Questions boosts their confidence by enhancing their test-taking abilities and reinforcing their nursing knowledge.
Time Management Skills: Time is of the essence during the NCLEX. By taking practice tests regularly, students learn to manage their time effectively, ensuring they can answer all questions within the allocated timeframe.
Adapting to Exam Pressure: The NCLEX can be mentally taxing. By simulating the exam environment with Burns' practice tests, student nurses can get accustomed to handling stress and maintaining focus during the actual test.
Assessing Progress: Burns' NCLEX Questions provide valuable performance metrics, enabling students to track their progress over time. This feedback helps them gauge their readiness for the NCLEX and make informed decisions about the timing of their exam.
Burns NCLEX Questions
Burns NCLEX Questions #1 (25 Questions)
Burns NCLEX Questions #2 (25 Questions)
Burns NCLEX Questions #3 (25 Questions)
See Also
Burns Nursing Diagnosis and Nursing Care Plans
Best Nursing Books and Resources
These are the nursing books and resources that we recommend.
NurseStudy.net is a participant in the Amazon Services LLC Associates Program.  Included below are affiliate links from Amazon at no additional cost from you. We may earn a small commission from your purchase. Please see our Privacy Policy
---
The Nursing Diagnosis Handbook E-Book: An Evidence-Based Guide to Planning Care
This is an excellent reference for nurses and nursing students. While it is a great resource for writing nursing care plans and nursing diagnoses, it also helps guide the nurse to match the nursing diagnosis to the patient assessment and diagnosis.
This handbook has been updated with NANDA-I approved Nursing Diagnoses that incorporates NOC and NIC taxonomies and evidenced based nursing interventions and much more.
---
---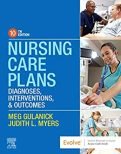 ---
Disclaimer
Please follow your facility's guidelines, policies, and procedures.
The medical information on this site is provided as an information resource only and is not to be used or relied on for diagnostic or treatment purposes.
This information is intended to be nursing education and should not be used as a substitute for professional diagnosis and treatment.
---